Hello darlings! Swirly knows that her devoted readers depend on her style advice to look their best - let's face it girls, you can't do it on your own! So Swirly brings you a special feature today, which may best be described as "The Idiots Guide to Looking as Hot as Swirly". Swirly will share her fashion tips with you and allow you to recreate some of her hottest looks. Swirly is generously offering you this exclusive information free of charge, though naturally, gifts and donations of linden dollars are not only appreciated, but expected!

This ensemble is perfect for dancing the night away at your favourite club, and as you can see just screams diva! Swirly is dancing on a grotty piece of cardboard for you in this photo.
White Horse Dress from Paper Couture
Supafly Afro from O & E
Oval Gold Hoops from Purple Rose Jewelry & More
Retro Bug Sunglasses from FNKY! & Cake
ETD Sheer Heels
Ganguro skin (tone1) from PanJen
Super Size Diamond Top Eyelashes by ZsaZsa Withnail



An all too frequent complaint Swirly hears about fashion in SL is that there simply aren't enough accessories available that include goldfish. This is a situation that needs to be rectified urgently, and fortunately there are at least two forward thinking designers (smooches to Rowan Carroll and Mimi Therian!) who have taken the time to include a goldfish or two in their designs. Take it from Swirly darlings, goldfish are THE next big thing!
Goldfish Platforms from She's So Unusual Shoes
Fishy Fishy!! Necklace, Balloo Funky Earrings and Lepord Leggings from Mimi Therian Designs
Lively Jacket and Shirt from ROXEE
80s Style Fishnet skirt at Dark Passions Mall
Rhinestone Retro! Glasses from artilleri
V Pincurls Blonde Hair from Old Gravy
Pale Milk Skin from Indie Rainbow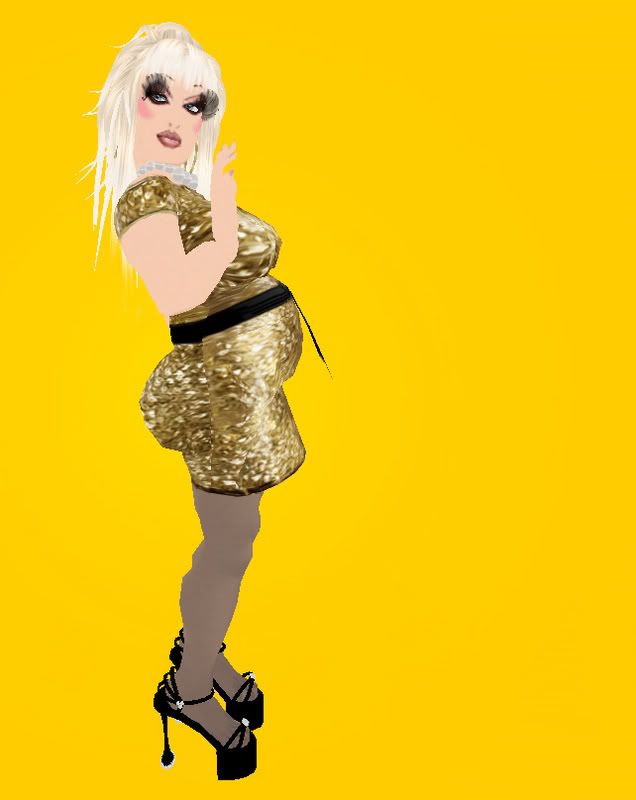 Swirly is frequently told that she looks like a young Paris Hilton in this outfit, and while it isn't really likely that you will if you wear it, you may still look quite pretty.
Gold Party Dress from Nylon Outfitters
Oval Gold Hoops from Purple Rose Jewelry & More
Wilma Pearl Necklace from Kitty's Rampage
"Girl's Best Friend" Shoes from It's All Good
Jasmine Hair in Platinum from ETD
Super Size Diamond Top Eyelashes and Drag Skin by ZsaZsa Withnail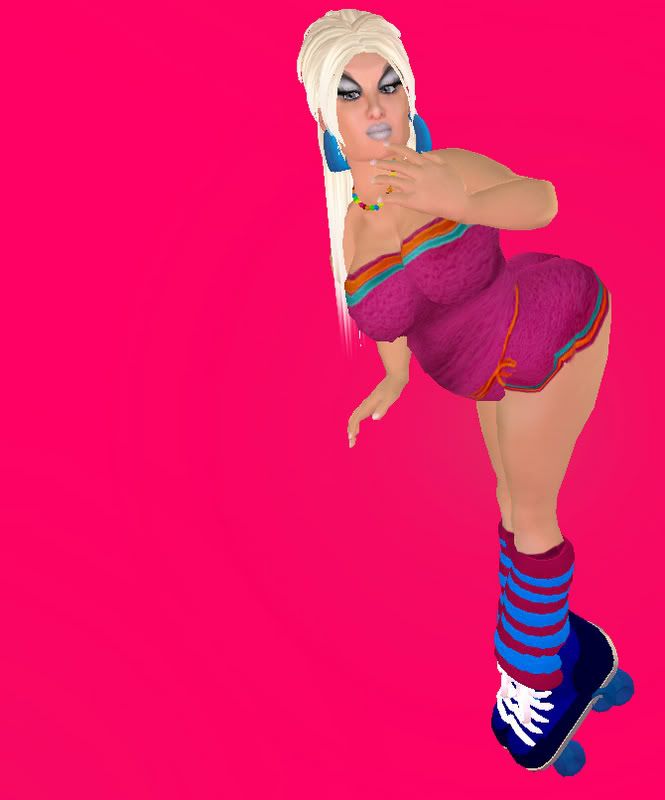 Shai Delacroix's Rollergirl Romper has proven to be quite popular, and sales will no doubt double now that Swirly has featured it here. Wonderful to see designers creating clothes that aren't intended to be worn by bulimic stick insects - if you don't have ample curves, this is NOT the outfit for you.
The Rollergirl Romper in Fuschia from Casa del Shai
Skoopf Ultra Roller Skates
Balloo Funky Earrings from Mimi Therian Designs
Candy necklace from Kru's Boutique
Vanessa Hair in Platinum from ETD
Party M0n5t3r Skin - Makeup 7 from Indie Rainbow
*smooches*