Before anyone thinks it's a mistake that I'm posting here, let me go into the requisite noobie blogger intro. I'm not here to inflict my dubious sense of style or priggish sense of propriety on you fashion junkies; for that, you can be thankful. No, I'm here to keep it short and sweet, and let you in on a few little secrets while I have your attention, fickle as it is.
One being that I moonlight as a kitsune. Not a furry but a fox, in the literal sense of the word. It gives me licence to don cutesy ears and tails and yet keep from being swept up in the neko trend that everyone and their mother is getting into. Too, it's due in no small part to the identity crisis I'm afflicted with that ensures my changing avatars every two weeks or so, and sneaking off to find new gear for said avatars, all the while keeping up the pretense that I'm my usual immaculately coiffed, bland, boring self day in and day out. Fun, no? Good for you that I'm only too willing to share my finds. I may be an eccentric, but I've never been accused of being selfish.
We're going to go Japanese for this installment, as I've discovered (and so have many other bloggers, I'm sure) the Japanese sims are chock-full of pretty little shops, rich pickings for the jaded fashionista longing for new and uncharted territory. Not to mention that a good many of the items we found were at almost ridiculously low prices. We're talking in the neighbourhood of 50, 100L. You don't have to thank me.
First up is the designer
Elec Tone
of
Electro Kitty
. When I said I wasn't a neko, I didn't mean I'd keep my paws off their goods. Especially not when such little treats as this are in question: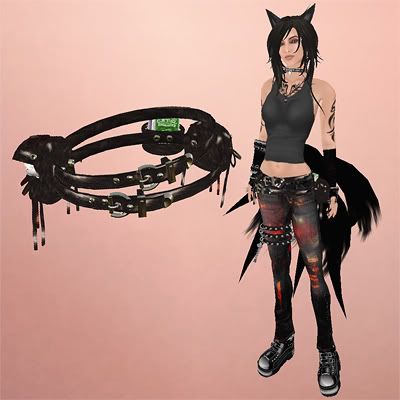 Electro Kitty Nezumi Belt; Celestial Studios' Lulu Boybeater in Dark Grey (tinted); Renegade West Silence Jeans (Block Party 5 exclusive); Last Call Pierce Women's Collar (Pewter w/Silver Heart); Goth1c0 Heart-breaker Necklace (Block Party 4 exclusive); Techpanty Fishbone Minibelt; HDesign H-Evolution Shoes; HDesign Soulhunter Gauntlets (right only).

Though I'm not nearly so gauche that I keep my meals in my pockets, Elec's creations are certainly tasty. He's quite a charming and talented personality, too; he composes his own music and remixes electronica...and cat meows :)
Next up is this striking Western-style belt from
67 Angels
. I'm not partial to cowboy fashion, but this belt is certainly an eye-catcher:
Riders' Wallet (Python and Black Velour) Studs Belt; Culture Vulture Indigo Couture Top; Camie Cooper Black Denim Skirt (shorts only); Syfie Minogue Black Suede Knee-high Stiletto Boots; Sin Wicked Cleric Pistol, Silver; Wilted Rose Fear and Loathing Watch.
This belt I initially found impossible to resize to fit a female shape (if you're blessed with the absurdly tiny sort of wasp waist that 99% of the female avs in SL have, myself included) so I talked to the creator, Shooting Oh, who I had the luck of running into that day. He was courteous and very, very prompt in sending me a version small enough to fit, which will be included in the package up for sale. I was ecstatic; this is a fine piece of primwork and texturing that I would've hated to pass over just because I don't have child-bearing hips. We skinny girls need our clunky chain-and-snakeskin cowboy belts, too, you know.
Okinawa, whilst being a small shopping area as sims go, is now one of my favourite Japanese sims. It's rare, at least for me, to find two items I like enough to buy in one trip, let alone three. The two others were from
TechPanty
(I refuse to guess as to how the owner came up with the name).
Here are a pair of metallic cyberpunkish shoes (simply called Metal Shoes) that kick up clouds of dust when you run, and the
Fishbone Minibelt
, a spiky little thigh-belt with a dangling fishbone. Though the latter isn't something I'd wear regularly, as I'd be mistaken (yet again) for a neko, and I'm not to be held accountable for your carpet-cleaning bill, either, should you decide to wear these shoes indoors.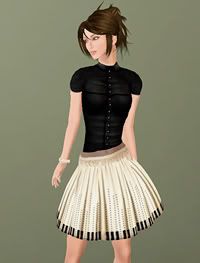 Last, but certainly not least, is
BettyPage Voyager's shop, BP
. She carries a small selection of adorable tops, skirts and dresses, and such finds as a lovely piano skirt, a faded dungaree dress,
denim shorts with prim cuffs
, and an enormous curly hairdo. There's a
wicker summer bag
available in her
Aoba branch
, though the holding pose looks like I'm punching someone in the gut rather than demurely carrying my purse. The piano skirt is my favourite; I've matched it here with the Roslin Blouse from Savvy!, the plain black flats from Seu Ahn and my Claris Pearl Bracelet.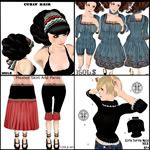 That's all for now. I'll be here on the
beach
in Okinawa, sipping a daiquiri (but not getting a tan). Next stop: Harajuku, or wherever else catches my fancy.
Shopping Information:
Electro Kitty, by Elec Tone,
Ikebukuro (152, 214, 22)
67 Angels, Amimart,
Okinawa (132, 199, 28)
Techpanty,
Okinawa (115, 162, 25)
&
Kabuki, (113, 224, 28)
BP by BettyPage Voyager,
Osaka (148, 138, 22)
,
Aoba, (75, 160, 31)
&
Kabuki (140, 78, 29)
Celestial Studios by Starley Thereian,
Celestial City (36, 219, 26)
HDesign by Hevan Lament,
Nemo (37, 105, 55)
Goth1c0 by Keishii Roo,
Gemmed (186, 227, 23)
Last Call Jewelry by Lyra Muse,
Dazzle (66, 70, 22)
Renegade by Kaejo Dasilva,
Cleary (241, 219, 122)
It's All Good by Camie Cooper,
Naedam, (124, 128, 56)
Culture Vulture by Novy Gadsby,
Downtown, (86, 38, 101)
Prim Seduction by Sylfie Minogue,
Sylfie, (70, 35, 23)
Wilted Rose by Rose Columbia,
Bloom County, (73, 125, 24)
Savvy! by Dakota Buck,
Southern Marvel, (19, 199, 25)
SHOP SEU by Seu Ahn,
Higashiosaka 188, 116, 0 (PG)