Hello darlings, Swirly here. Swirly has been in SL for two years now and is ashamed to admit that in all that time she has never cybered! Seereina Geiger from
MekaNoiZe Labs
has changed Swirly's ways with her fabulous range of futuristic clothing that is just perfect for you cybering types. Swirly can honestly say that with clothes as fabulous as these, she'll be cybering non stop from now on!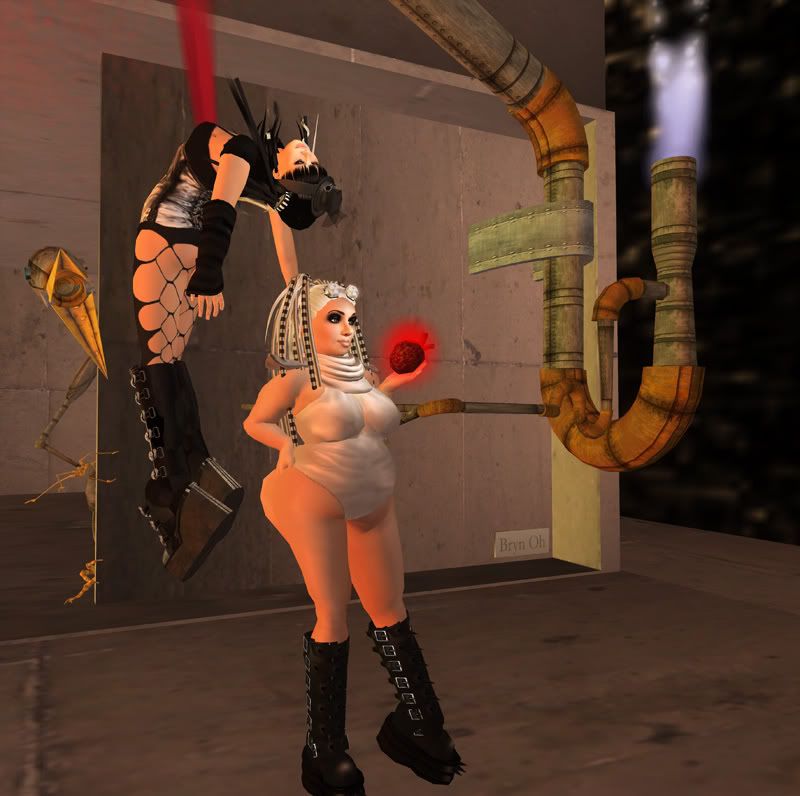 Swirly looks fabulous in MekaNoiZe Labs Invader in Silver, as she holds Stephanie Misfit's still- beating heart in her hand. Stephanie is wearing MekaNoiZe Labs Monokrom in Black, which is a very nice outfit that would look much better on Swirly.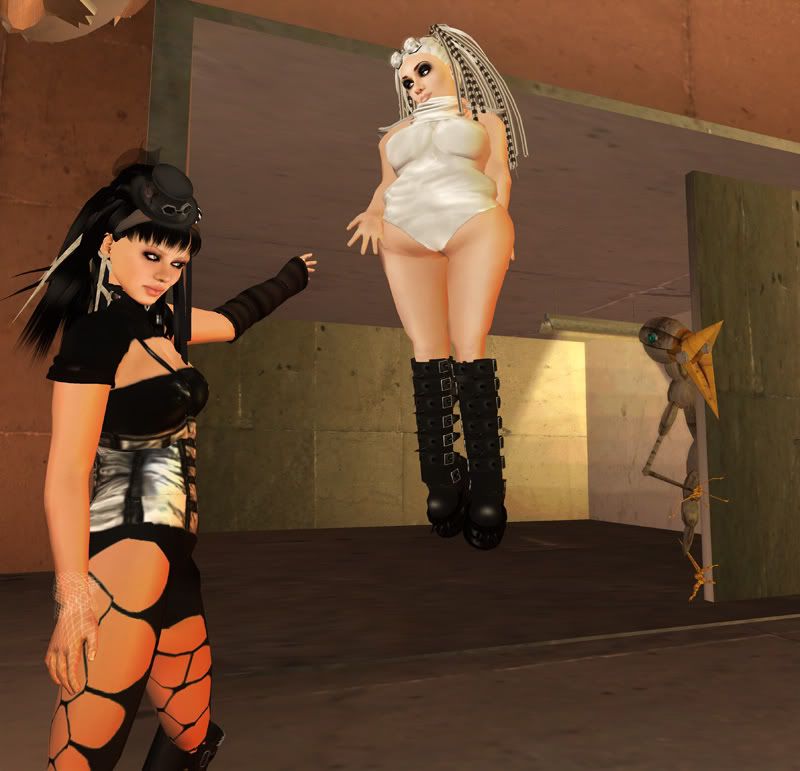 If you purchase the Invader outfit, you also get the fabulous Invader Cyberlox Hair that Swirly is wearing here! And a pair of goggles! Swirly isn't wearing those though, she wanted you all to be able to see her pretty eyes.
MekaNoiZe Labs also makes frocks! Swirly would model the De/konstrukt Ghost corset and skirt for you if she had it, but she doesn't, so you'll just have to make do with Stephanie Misfit. The skirt is made from sculpties AND it glows! Since when did things start glowing in Second Life darlings?
All of these outfits are available in black and silver, and Swirly is hopeful that pink will be available soon. If you are feeling miserly, there is also the option to buy pieces from each outfit separately. Swirly was feeling particularly miserly and didn't buy anything at all, her outfit was a rez day gift from Seereina :) Speaking of rez day gifts, it's not too late to send one to Swirly darlings!
Swirly is also wearing
WRONG's
Buckle Boots and
LF Chai's
Midnight Skin in Ginger. Stephanie is wearing
Philotic Energy's
Shelby Hair in Black, Goth Mutation Boots from
Skanks R Us
, and
Gala Phoenix's
Classic Perse Skin.
The poses are from the Payne and Despair Couples Set by
5ifth Order
, just perfect for cybering darlings!

*smooches*