The evil forces of technology are against me as I try to do a quick post about some of my favourite Relay for Life items. Add the constant in world glitches, inability to log on and frequent crashes to the repeated power failures at my home and it will be a miracle if this gets posted at all! And I can forget about the rather large build I am working on for the new Fashion Victim HQ since...... I can't actually log in! /rant off
Fortunately I did get to spend some time at Relay for Life between crashes, and kudos to all involved this year. Stunning builds, fun events and extremely well organised all round. Having friends involved in organising aspects of this event, I know how hard you have all worked, so congratulations!
There were just way too many stunning limited edition RFL items to begin to cover here (or even to BUY for that matter) but here are some of my favourites. Most of these will be gone tomorrow, so make sure you don't miss out.
I love the work of hyasynth Tiramisu from
~silentsparrow~
, and she is one of the sweetest people you could meet too. hyasynth released a gorgeous silver version of her Etienne dress just for RFL. I think Furiae Blackthorne described it something along the lines of "Neo Victorian meets June Cleaver". Either way, this is a fine dress, with the stunning texture and prim work we have come to expect from hyasynth. This dress will cost you a donation of 500L and is available at the main silentsparrow store, and in the
Pixels in Pink
RFL sim. And just in case you didn't know, there's a sale on older items going on right now at
~silentsparrow~
too!
Nicky Ree's
much coveted Mara Limited Edition gown has already received mention on a number of other blogs, and rightly so. This is one of the most exquisite gowns I have seen in a long time and I was more than happy to part with a 1500L donation to buy it, especially with the multiple skirt options (but alas I couldn't quite justify the purchase of the equally beautiful black Mara gown as well). Grab this at the
Shopaholics for a Cause
sim or at Nicky's store in
Deco
.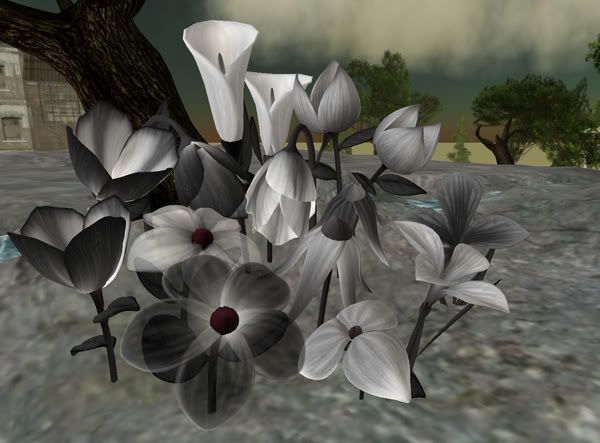 Fallingwater Cellardoor made my day by releasing the Noir sculpted flower collection.
Fallingwater Flowers
are a real weakness of mine, and the ethereal beauty of the Noir flowers just took my breath away. They are available in 4 sizes, a pack of 15 will set you back 1500L which is well worth it in my opinion. These will be available after RFL, but if you grab them now at the
Pixels in Pink
sim, all of the proceeds will go to Relay for Life.
Also available at the
Pixels in Pink
sim is Torrid Midnight's Spring Flowers Noir dress, which is sweet and simple but still elegant. It's shown here with
HoseQueen's
cute Jindi hair, another Pixels in Pink offering. And of course, I HAD to have one of
Gala Phoenix's
Limited Edition RFL skins, which I spent ages hunting for until Stephen and Caliah tracked them down at the the
Ceremony Centre
.
And finally, something that will inspire a resounding "WTF??" from those who know me well,
Panache's
In The Pink Sweet, available at
Pixels in Pink
. This was a RFL offering I missed out on last year and it's just fun fun fun! This set is available for a 1000L donation, and you get the skin, adorable hat, jewelry, 2 hairstyles, 3 shoes, an outfit you can wear 5 different ways and 3 sets of eyes. I'm telling you, if adding this to your wardrobe doesn't cheer you up, nothing will. Not to mention, Swirly is going to DIE of jealousy. Love it!