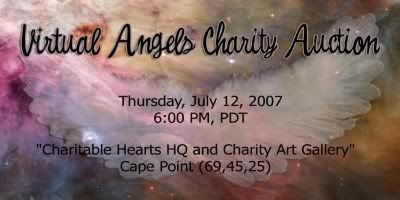 Indulge yourself while supporting Virtual Angels on Thursday, July 12, 6:00 PM, PDT at the Charitable Hearts HQ and Art Gallery.
The auction will include original artwork with provenance, exclusive couture from Simone! and other SL designers, catering services from Bite, and many other items.
Participants will enjoy listening to Kim Seifert, SL's premiere country chanteuse. The auction will be conducted by our favorite host and Virtual Angel supporter, Haroldthe Burrel.
Your guilt free purchases will support the Virtual Angels organization that contributes to the health care needs of SL residents.
Don't miss this event. To find out more and receive a list of items going on the auction block, or contribute items to the auction, please IM Maria Monnett. For more information on the Virtual Angels, contact Nazz Lane.
Charitable Hearts HQ and Art Gallery, Cape Point