Hello darlings, Swirly here, with a SKIN review! As Ayesha Bisiani from
Skin Within
has recently launched her new "Arya" Indian line of skins, Swirly thought it would be perfect timing to review some of Skin Within's less recent releases. Swirly isn't lazy darlings, she's just a little bit behind with her blogging due to leading such a hectic life. No, not
real
life silly; Swirly doesn't have one.
Ashaki is an ebony skin range which features a lovely, glossy glow and comes with 24 makeup choices. Yes, that's enough choice to confuse Swirly too! The makeups range from subtle to bold, and you just know which ones Swirly loves, now don't you? Although these skins are quite dark in skin tone and would suit an African-American avatar, Swirly found that they were also suitable for that blond haired, blue eyed, "spent too long on the sun bed" look. Swirly loves the shine on the faces of these skins and the rich makeup colours shown below.
Of course, you want to know what the body of this skin looks like, so Swirly considerately removed her clothes in this ice cream parlour at artilleri to show you. Fabulous darlings!
Also from Skin Within is the "Jia" Asian skin range. Once again, this range comes with 24 different makeups in Day, Evening, Creamy and Smoky looks. Swirly found the Evening and Smoky makeups to be particularly striking, with a lovely emphasis on the eyes. Jia also comes with a gorgeous free Asian shape, which Swirly isn't modelling here as, obviously, her own shape is perfect. Although Swirly usually prefers an extremely harshly plucked and pencilled eyebrow, she does like the quite natural eyebrows of the Jia skin, which soften the face for a very pretty look.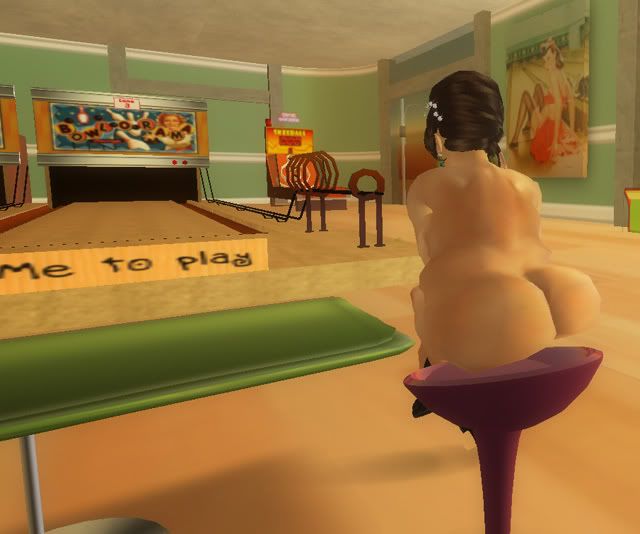 The body of the Jia skin is perfect too; Swirly took her clothes off in this lovely bowling alley in the artilleri sim just so you could see!