Several months ago, when the businesswear trend swept through SL, designers released a varied selection of suits and career couture from which the working women of the grid could take their pick. From the simple to the stylish, suits were all the rage.
When Simone dropped her new businesswear line on me, it was readily apparent that these suits and skirt sets weren't meant merely for the boardroom, but anywhere that a woman of class and character might need to be. Extremely versatile and feminine, accented with lace, pearls and delicate hand-drawn piping, these outfits suit women of every profession, and embody timeless style.
From a collection of eleven different releases and a total of forty-four outfits, these are what caught my eye.
"Donna" is a classic women's suit featuring an open collarless jacket with a simple, perfectly drawn lapel, pearl and lace cuff accents and a pearl and diamond buckle closure. The "Steno Pool" set combines a white blouse with black piping and lace detail, blue pearl buttons and a round collar with a black lace-trimmed knee-length skirt for an outfit with a retro feel.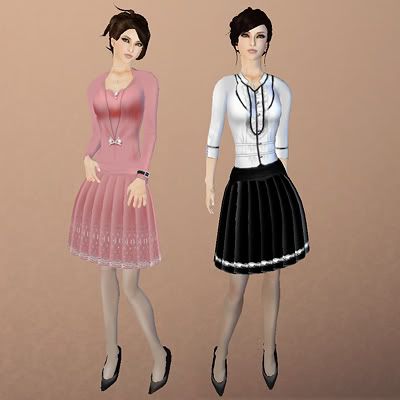 Left: Simone "Donna" in Blush; Hair: Crave by Naughty; Right: Simone "Steno Pool"; Hair: Anisa by ETD; Shoes: Last Call Black Sculpted Pumps (group freebie)
One of my favourite suit sets from this collection is "Attache." The sleek, modern lines of the short jacket are accented by the large opalised buttons along its front and cuffs, and the wide, intricately detailed belt adds instant chic to the traditional silhouette. This outfit has two skirt options in black and white.
Left: Simone "Attache" in Teal; Hair: Hailey by ETD; Shoes: Boardroom Bish in Albino by Last Call Vamp; Right: Simone "Attache" in Celery; Hair: Smooth in Black by Kin Keiko; Shoes: Simone Sculpted Black Satin Pumps
Another of my favourites, and perhaps the sleekest of the outfits in this collection, "Business Class" features a high-necked, frilled blouse and a classic white jacket held closed by a rose-enamel clasp. There are two skirt options, one short and the other knee-length, and the matching sheer hose is edged by a frill of the same colour as the blouse, which lends the ensemble a saucy touch. "Fast Track" is a decidedly softer look, with a lovely lace-edged skirt, pearl buttons along cuffs and belt, and an open jacket over a white camisole.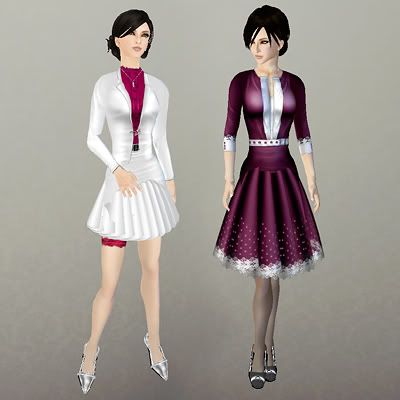 Left: Simone "Business Class" in Berry; Hair: Carolyn from ETD; Shoes: Essential White/White Stilettos from Prim Seduction, Sylfie Minogue; Simone "Fast Track" in Wine; Hair: The Chignon, ETD Couture Collection; Shoes: Vivica in Heather/White by Last Call Vamp
"Girl Friday" is a simple and understated, yet classy, outfit, with a corseted blouse for a high-waisted look, a ribbon at the collar, and black stockings. Named after the former Prime Minister, the "Lady Margaret" is a suit to be worn with dignity: a jacket, blouse and skirt in a classic deep navy accented with white piping. The collarless jacket is highlighted by a clasp of pearls and gold filigree.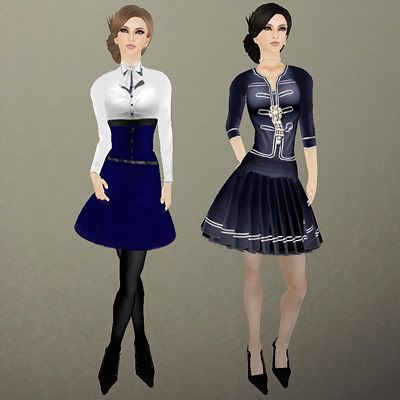 Left: Simone "Girl Friday" in Blue; Hair: Tyra by ETD; Shoes: Quinn in Black by Last Call Vamp; Right: Simone "Lady Margeret"; Hair: Tyra by ETD; Shoes: Quinn in Black by Last Call Vamp
**Jewellery: Journey Drop Necklace by Earthtones Boutique; Claire Diamond Earring Studs, Claris Single-Strand Pearl Necklace, Claris Pearl Earrings in Gold, & Classic Tank Watch in Black/Silver by Muse
The best feature of this collection is the meticulous detail on each outfit; each piece is on its own separate layer. Overall this is a rather polished set of releases, and the more feminine touches are quite a break from the harder-edged, more masculine businesswear offerings currently available in SL.
Shopping information:
Simone! by Simone Stern,
Simone, (118,113, 102)