Swirly is often asked how she manages to look SO fabulous ALL of the time. Is she always dressed in high fashion? What does she wear when she isn't mingling with the rich and powerful at fabulous parties? Well, obviously the answer to that question is haute couture darlings. But Swirly is aware that YOU may not always be able to justify dropping the kids off at the pool or seeing a man about a dog whilst wearing haute couture, so she has put together a few more practical looks so that you can always look fabulous, even whilst walking the dog and carrying a pooper scooper. Casual can be glamorous darlings!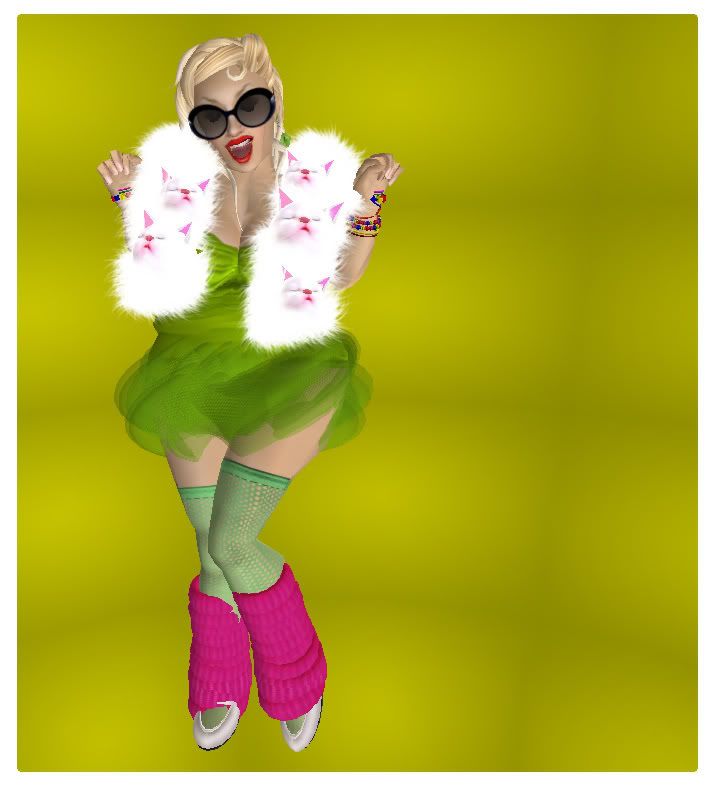 This outfit is perfect for those dreaded trips to the gym. Swirly is wearing the
Artilleri
Corinne dress in Funky Lime. The
green fishnets and Lulu legwarmers in hot pink from Celestial Studios match it perfectly. Swirly is wearing her favourite Ballet Flats from
Shiny Things and those marvelous
Retro Bug sunglasses from CAKE. Swirly found some wonderful Apple Earrings at Sarabi Designs which look good enough to eat, though perhaps a little too healthy for Swirly's liking, but they ARE perfect for exercising in. Swirly got her Punked Out bracelets from SweetEdge jewelry. Swirly's skin and hair were, incredibly, inspired by Dakota Buck when she was looking slightly less trashy than usual. Swirly is wearing the Honey Skin in Cherry from Lovey's Boutique - darlings if you haven't checked out Lovey's skins yet you must go now! The retro Christina hair from ETD is fabulous. Swirly's outfit is carefully finished off with ZsaZsa Withnail's Purebred Kitten Boa, which you can't have darlings.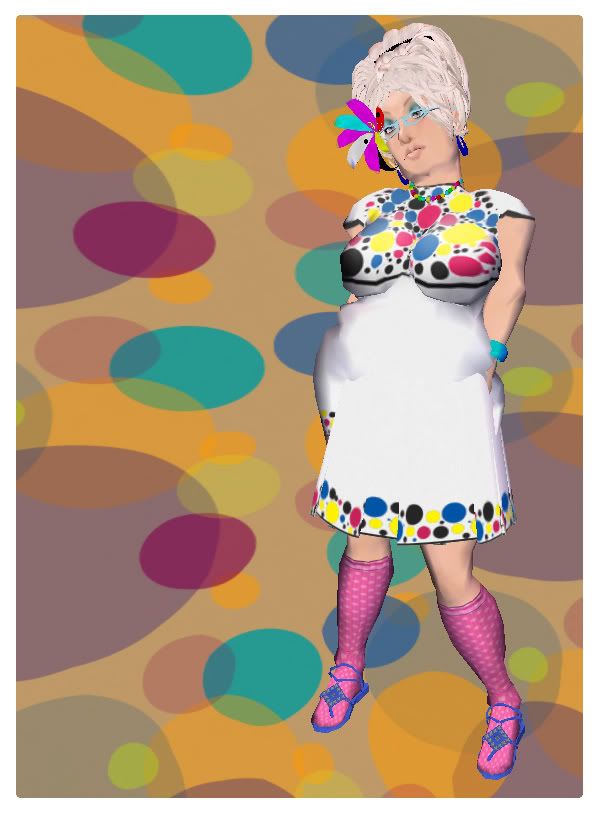 If Swirly did housework, this white outfit would be completely unsuitable to clean in. However, it IS perfect for lazing on the sofa with a magazine whilst supervising your housekeeper. The fabulous Leia dress from Bossa Nova is best worn with a pair of pink dotted knee high socks from Celestial Studios. Don't forget
the Urban Bohemian Ankle Wrap Flats from
Boing Fromage
- socks with sandals are SO
now
darlings! Swirly found the very versatile color change Lulu Chunky Hoop earrings at Celestial Studios, the delicious Candy Necklace is from Kru's Boutique and the Cheap Plastic Bangle was made by a small child at Funk-O-Rama. Swirly's new favourite accessory comes from
Phaylen Fairchild Designs
-
the divine Copacabana Eyeglasses are to die for and are just SO Swirly! Swirly also found her gorgeous Diva Hair at Phaylen's store - the hair clip blings darlings! Swirly's skin is a 100L bargain from
Nylon Outfitters
.
This lovely vintage Elise green dress from
Ivalde
is perfect for a spot of gardening, especially when worn with the super practical Brown Stacked Heels from
She's So Unusual
- they're made from WOOD darlings! Show you mean business with this stunning Flower Handbag from
Phaylen Fairchild Designs
and keep the sun out of your eyes with your PC Logo frames from
Paper Couture
. Swirly is also wearing the large but delicate Water Drop earrings from Paper Couture. Her fabulous
Phunky Beehive
hairdo is from
Phaylen Fairchild Designs
and it costs only 100L for a pack of 8 colours! Swirly's skin is Shiny Light in Fuschia and Pink from
Fashionably Dead
.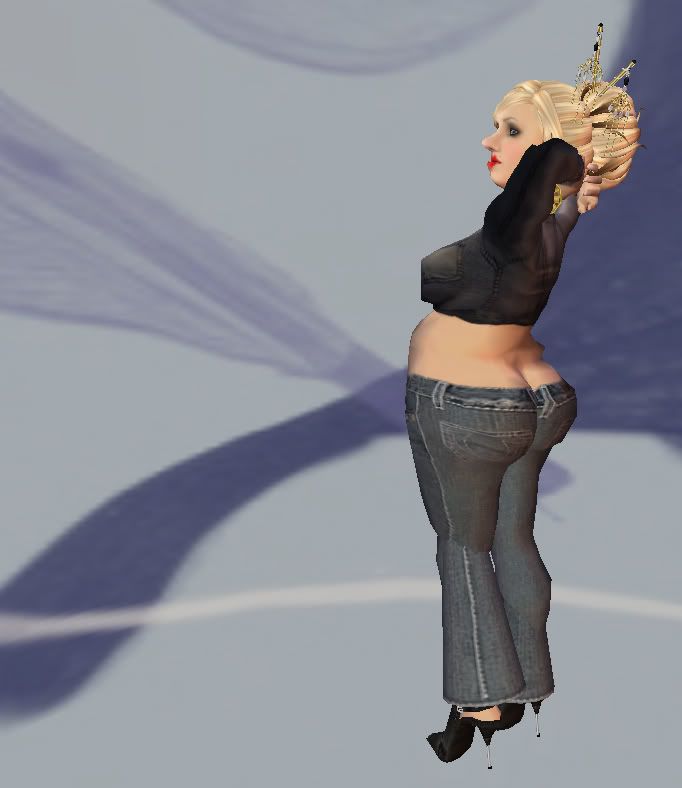 Nothing says casual like denim, so normally Swirly would recommend that you don't wear it. However, when worn with the right accessories, and more importantly, when worn by Swirly, denim can be glamorous! These flattering jeans are called "Crack" and can be found at TART Clothing. Swirly likes to wear them to her regularly scheduled gynecologist appointments as they save her all the bother of removing her clothes prior to the examination. They go beautifully with the "Dirty" Denim Jacket from the Ingenue set at
Last Call. But who would DARE to leave the house in denim without wearing this fabulous Asian Hairpin from Prim Seduction? It's an everyday essential darlings! Swirly is wearing the Spring Earrings from
Paper Couture
and her shoes are the very sleek Fantasia from
Asri Falcone
. Swirly's hair is the simple and unfussy Anisa in Honey from
ETD.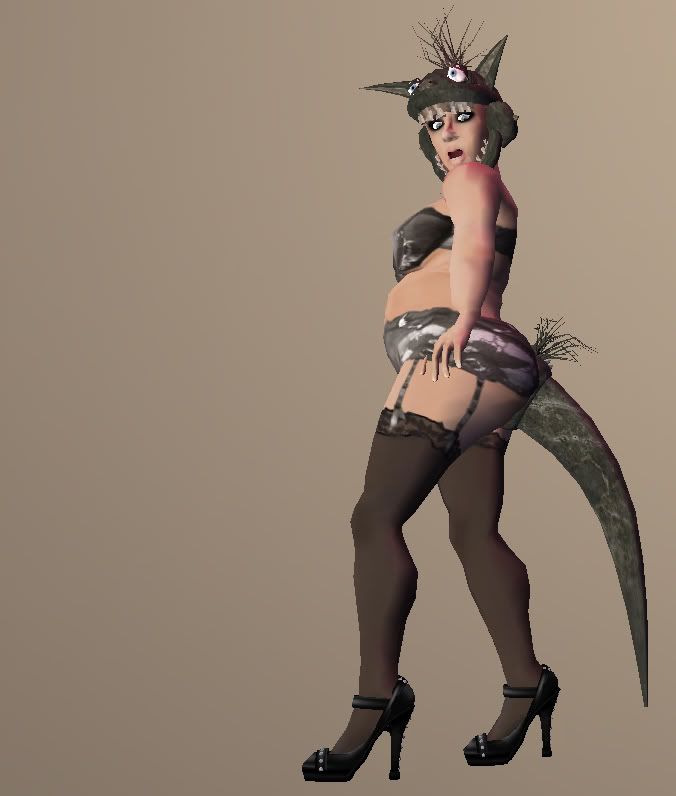 And of course, Swirly knows you are all DYING to know what she wears to bed when she just wants to curl up with a cup of hot cocoa and a good book, sans handsome husband with payment info on file. Don't be silly darlings, that just doesn't happen in Swirly's life! Swirly can only hazard a guess at what such an outfit would look like. But she imagines that it would have to include the pretty Rosette set in White from LoveLace Lingerie and the WhatchaMa Carcass Hat and Belt from Hat Mechanic

. Don't forget to finish the look off with the divine Dare Pumps from

Shiny Things, and sleep well darlings!



*smooches*