Hello dears, the few of you who aren't accustomed to adorning your anorexic bodies in skimpy slutwear all year round are probably looking forward to the opportunity to throw off those winter clothes and stock up on some delightful spring and summer fashions. So Swirly brings you a selection of her favourite bright and colourful sunny weather outfits, just to brighten your day!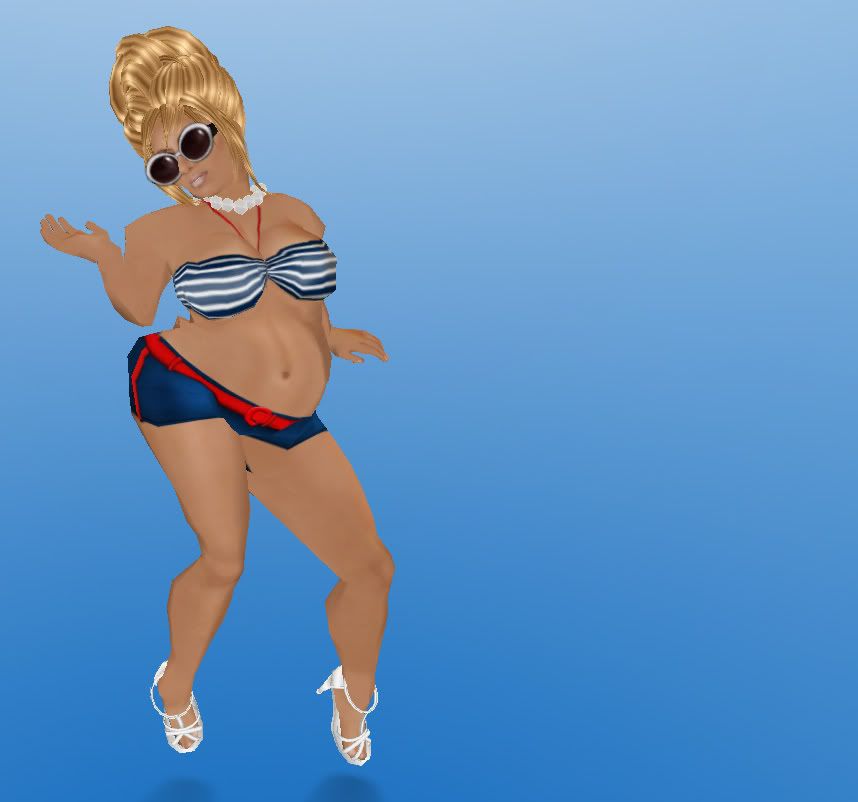 The Skipper Bikini is a new release from that goddess of retro style, Antonia Marat. Swirly loves you Antonia, don't forget the review copies next time dear! Shown here in the very nautical blue shade, you can pick it up at
artilleri, go NOW darlings! Of course, nothing would match this outfit better than the new Fancy hair from GuRL 6, Swirly picked up the Delicate Pack and just LOVES it! The divine Jackie O glasses which are such a favourite of Swirly's are of course available at Nylon Outfitters, the Wilma Pearl Necklace is from Kitty's Rampage and the fabulous T-Strap Shoes are from Shiny Things.


There's nothing like a dash of pink combined with numerous other clashing colours to show that you are a style queen. This casual yet stylish outfit is guaranteed to turn heads. The bright and cheerful Petal Top - Stars from Soda will draw attention to your best assets whilst screaming "Aren't I just the cutest thing you have ever seen?" Team it with the shorts from the Rosemary Set from Savvy? and you are on to a definite winner darlings! Lucas Lameth from Earthtones Boutique is just the most adorable "payment info on file" man that Swirly has ever met, and she would love to have his children. But he also makes rather pretty jewelry, and Swirly LOVES the Mr.Mesmerize earrings and necklace that he gave her as a sign of his affection. Swirly is waiting for you Lucas darling! The Patent Mary Janes are from boing fromage, Swirly's hair is Caitlin from
artilleri, and she is wearing the gorgeous new Zoe skin from Naughty - wouldn't you SWEAR that Amby made this just for Swirly, she looks so good in it!
Swirly is SUCH a huge fan of Indie Rainbow, his skins in particular are just divine. But he makes the

most

adorable clothes as well. Swirly is wearing Indie's Polka Dot Dress in Green, which is just so cute, but the best thing is it comes in a pack of five colours! Five darlings!! Swirly has teamed this outfit with the Funky Town Earrings in Lime from Funk-O-Rama and the must-have Feather Necklace from Yummy. And aren't these Jelly Jelly Shoes from The Violet Tree just delicious? Swirly doesn't recommend that you eat them after you wear them though darlings, because that would be most unhygienic. Swirly was over the moon to see that the new Chrissy hair from
artilleri comes with a scripted colour and pattern changing bandana - too fabulous! Swirly's skin is FruitLoops in Sweet Tarte from [miw]; isn't the make-up just SO Swirly??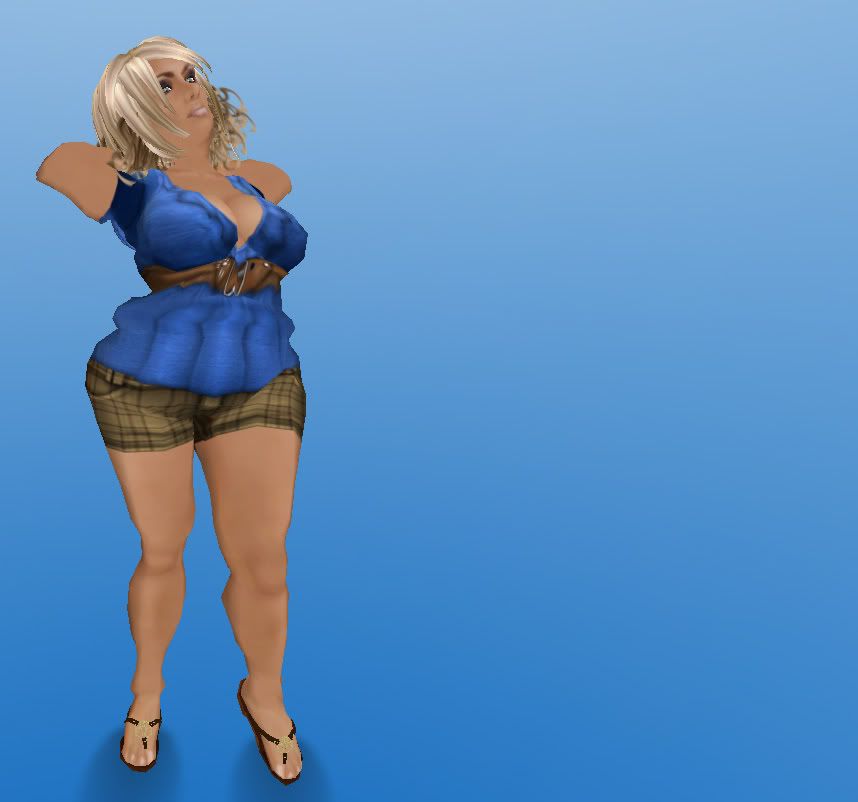 Any self-respecting Fashion Victim reader would be aware that Swirly is Ginny's BIGGEST fan. Ginny actually passed on her entire Girl Next Door collection to Swirly when it was released, but Swirly could not be bothered blogging any of it until now. Swirly doesn't like to rush these things darlings, laziness IS a virtue after all. So here at last, we have Jessica from
Last Call, which is comprised of the cutest plaid shorts and a lovely puffed sleeve ruffled blouse. It looks marvelous when worn with the

free

Signature Sandals from Lassitude and Ennui; even you "no payment info on file" hobo types can afford these! Swirly's hair is the very pretty Curly Top in Blond from Adam N Eve, and of course she is wearing that "made-just-for-Swirly" Zoe skin from
Naughty.


Here we have the Ariana Denim Set from GLAM which comes with a number of pieces. But why would you want to cover up with a jacket when you can show off a little midriff darlings? Don't forget that GLAM is having a fabulous half price sale right now, so rush on over and pick yourself up some bargains! Swirly is wearing her all time favourite Retro Bug Sunglasses from CAKE, along with the
Funky Town Earrings and Zebralicious Bangles from that irritating child Lexi Burks at
Funk-O-Rama. These very smart BoHo White Sandals are from She's So Unusual Shoes, and Swirly found her Delightful Rubina Geometric Hair at Marlys.


Also from
GLAM
is the Breezey Romper in Pink; doesn't Swirly just look just

too

cute in this? It goes perfectly with the Newsboy Cap in Pink from Lo Lo. Swirly is wearing the Tiny Hearts Hoop Earrings and the Kickin Candy Set from
Funk-O-Rama, which Swirly was disappointed to learn is not made from real candy. The oh-so-sexy
Jen shoes in Pucci are from X3D.
Swirly's hair is the very cute and retro Short Crop in Chiffon from Aveda. Swirly is wearing the Shiny Light Skin in Brown and Pink from Fashionably Dead, but it looks like this fabulous skin is no longer available darlings.