Hello darlings, Swirly here. Some of you must wonder how Swirly copes with the pressures of fame - the endless stream of fan mail, being mobbed by crazed fans whilst shopping, and of course, the
stalkers
. It IS difficult darlings, but fortunately there is some compensation for the inconvenience of being THE most adored fashionista in SL -
gifts!
Swirly is inundated with gifts from her admirers; lovely clothes, shoes, jewelry and hairstyles. No strings attached, it's just because people adore her (as they should). Swirly has decided to share a few of these gifts with her public right here on Fashion Victim. No, not the gifts themselves silly, just pictures of them. After all, Swirly has
never
been known for her generosity!
Marni Grut is clearly a fan of Swirly, which is why she just couldn't help but send Swirly fabulous gifts from her new store
Royal Blue
the minute it opened! Marni says that her fashions are "nu rav" and take influence from historical British design; of course Swirly has NO idea what Marni is on about but she certainly knows how to make a pretty frock! Shown here is the Tarten Neon Dress worn with Marni's Frills Shirt - Swirly just LOVES the collar. Roslin Petion of
Tete a Pied
is another admirer of Swirly, despite the incident when Swirly paid Furiae Blackthorne to blow up Roslin's house. That's why Roslin gave Swirly this gorgeous colour changing Heiress Handbag, and parted with this pretty Trendy Indigo Skin in Rose Medium with some persuasion.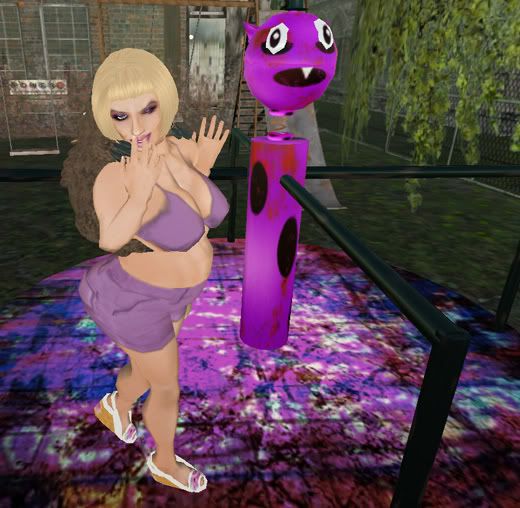 Sioxie Legend of
Second Wave Apparel
clearly knew of Swirly's love of all things purple (and pink, and orange, and yellow) when she sent her this Bikini Short Set in Lavender. This adorable set also comes with bikini bottoms, but Swirly loved the shorts so much she decided her readers would have to do without a gratuitous tush shot here. This outfit was clearly designed to be worn with the GroundPig SnackPack from
Hat Mechanic
, which apparently predicts the weather, a very considerate gift from Fade Dana. Swirly is also wearing the PeekToe Purple Hibiscus Espadriles from
She's So Unusual Shoes
.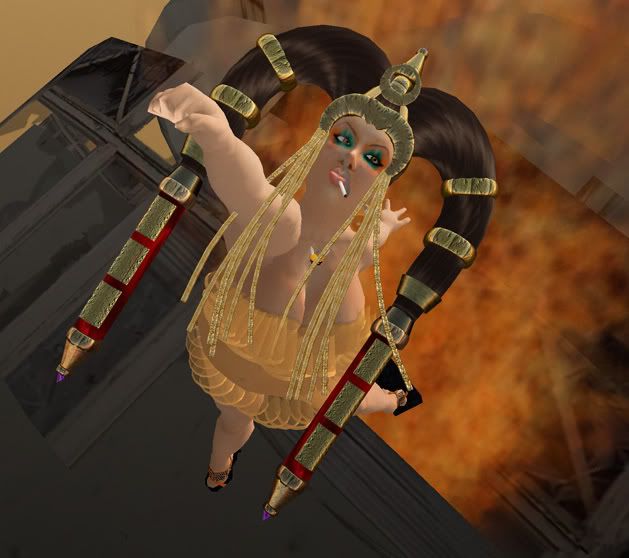 Popfuzz Bamboo of
PopFuzz
showed her love for Swirly by sending her this super sexy sheer Orange Fantasy On Ice outfit. It's a rather daring and revealing number which features lacy trims. If you look closely, you can almost see Swirly's nipples! Swirly thought this would be a nice outfit for skating, which is why she is modelling it on top of a burning plane wreck for you. Leetah Moxie from
Curl Up and Dye Salon
gave Swirly her sweet and subtle Amidala hair some time ago, but believe it or not, Swirly just couldn't find a thing to wear it with until now!
Marijane Greene has just opened a new store called
Addictions
so of course she celebrated by sending Swirly this incredibly sexy 1950's Latex Dress complete with hat, gloves and heels! The dress has a very nicely cinched waist complete with latex ruffle. Very shiny darlings! Swirly received her super fluffy and flexi Goldie French Vanilla Hair from
Sparkle Skye
, who is another adoring fan. Smooches Sparkle!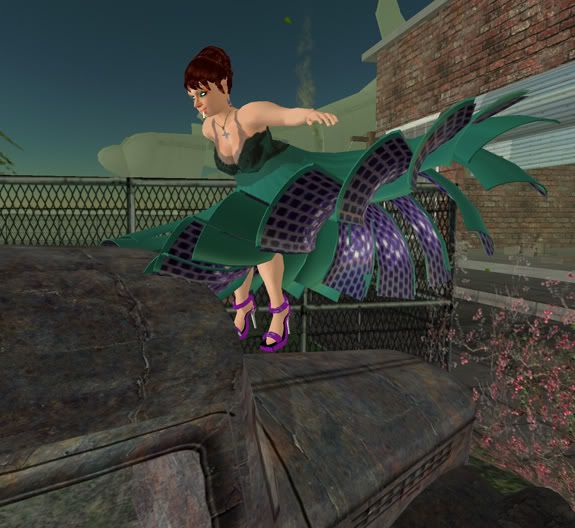 Here is a lovely gift given to Swirly by Rhiannon Rossini of
Marla
, an absolutely divine gown called Vamp. Swirly loves the rich satin texture and super flexi skirt. As Swirly jumps up and down on this burnt out truck, you can see that the skirt is lined with a gorgeous shiny sequin texture. Swirly is wearing
EARTHTONES Boutique's
Faedra's Emblem Jewelry Set in Reverie/Gold, which was given to her by Lucas Lameth as a sign of his undying love for her. Leetah Moxie from
Curl Up and Dye Salon
sent Swirly this lovely hair, which is Farieanne in Auburn and isn't it just oh-so-sophisticated!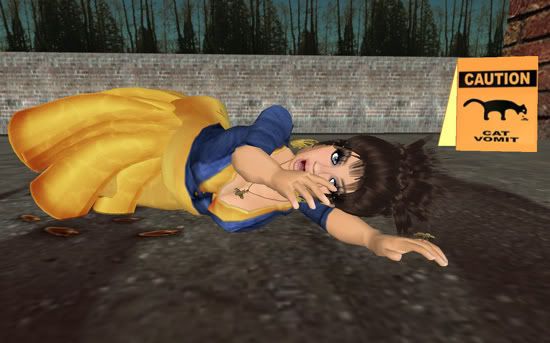 While Swirly isn't a fan of Dakota Buck from
Savvy?
, Dakota can certainly throw together a pretty frock or two and always makes sure to share with Swirly! Shown here is Dakota's latest release "Robyn" in Gold and Blue. Swirly was disappointed with the lack of a system skirt in this release, but other than that it's quite an adequate outfit if you like that sort of thing. Swirly's hair is the very cute Jaiden in Brown from obsessed fan Leetah Moxie of
Curl Up and Dye Salon
.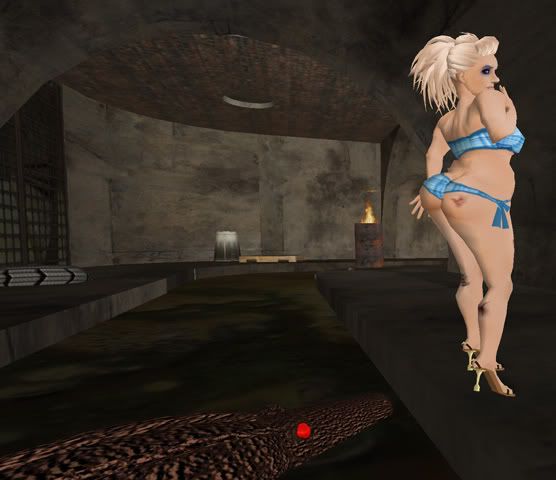 Doting fan Kit Maitland from
CKS Designs
clearly loves watching Swirly show off a little flesh, which is why she sent her this delightful Addison Swimsuit. The innocent checkered blue pattern and cute little bows almost prevent you from looking like a tramp as you show off your butt to the entire world. The sexy Gold Circle Strap Heels are from Rowan Carroll of
She's So Unusual Shoes
. And the Infected Wounds on Swirly's legs were a gift from Saeya Nyanda of
kyoot army
, who clearly has a thing or two to learn about gift giving.