Lucas Lameth is one seriously talented guy, as this latest release from
EARTHTONES Boutique
shows. Lucas has designed 3 sets of bohemian / gypsy style wooden jewelry which you can mix and match. I watched Lucas work on these in his studio and couldn't wait for them to be released, the prim work and texturing is superb as you would expect from EARTHTONES jewelry. All items are sold separately and are very reasonably priced at 179L for the necklaces and 69L for the earrings.
My favourite piece from the collection is the Boho Gypsy Necklace in Mixed Cherry Woods. Lucas describes it as "messy and very random". I love the contrasting shapes and textures; wear it with something low cut and this is one very eye catching necklace! Also shown here are the Boho Big Loop Earrings in Cherry Woods; I LOVE the size of these.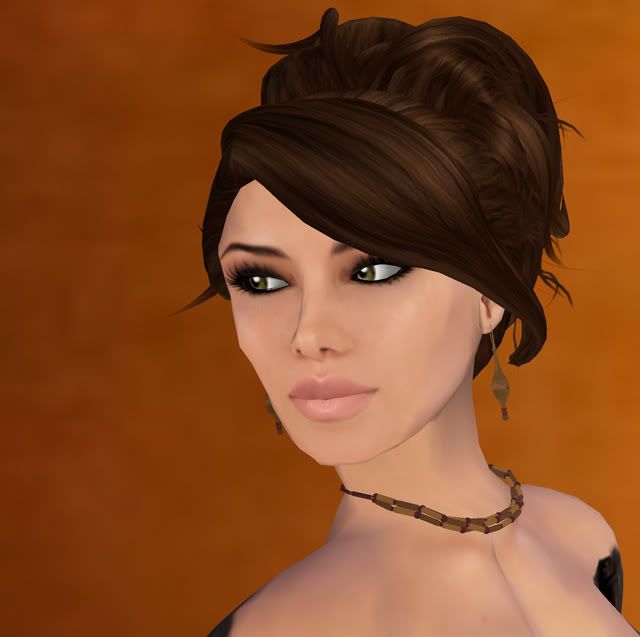 The Boho Triple Layer Wood Beads Necklace is a simpler piece comprised of 3 interwoven strands which would look great with casual or beach wear. I would love to see this made for guys as well. The sculpted shape of the Boho Figured Wood Earrings is very delicate and pretty.
Lucas has gone all out with the Boho Extra Long Necklace in Mixed Woods, this is really something quite different and impressive! The Boho Earrings Wood Wave in Mixed Woods are textured similarly the Boho Big Loop earrings with contrasting wood tones, but are carved to wave out.
Clothes: Aphrodite from Last Call
Hair: Crave in Mocha from Naughty
Skin: Alina Vintage Singles Fair "Dangerous Eyelashes 1" from Naughty