Got the Scoop on LilolOops?
They say you find gems in the most unexpected of places - and though I would advise against dumpster-diving more than would be sensible, it was my search for dirty urban wear that led me to a quaint little shop in the heart of a rubble-strewn post-apocalyptic wasteland.
Okay, not exactly. But
LilolOops
, a true punk-chic boutique belonging to DJ Lilo Jun, yielded finds worthy of a punk princess. Her separates combine the prints and textures of the 80's - leopard, fishnet, leather, velvet and lace - in a variety of vibrant hues for mixing and matching. The prim pieces are no-mod, but you may contact her for custom fitting for your avatar.
What stood out for me in the shop were her print leggings; in an array of patterns and colours, edged with ribbon and black or coloured lace, these are possibly the most fashionably eclectic I've seen in SL to date.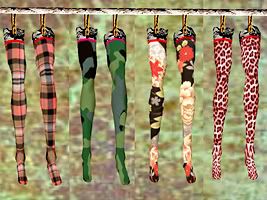 One can't but love the cut of her tops, coupled with her choice of prints: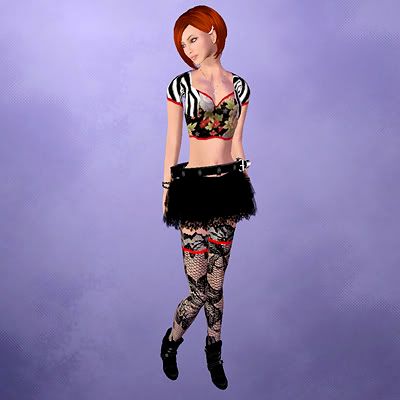 Black Dentelle Leggings, Black Dentelle Skirt, and Zebra Top from LilolOops; ETD Heart Bracelet in Black (V-day giveaway); Heart Famiglia Remembrance Necklace by Celeste Pinkney; Oh! What a Neat Boutique Slouchy Boots in Black.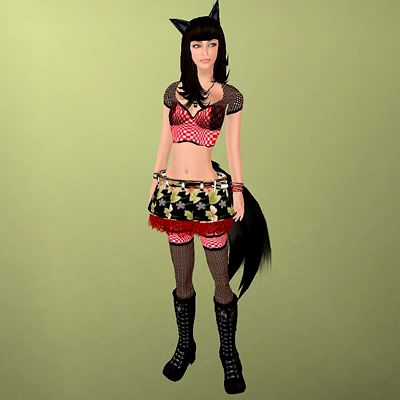 Black Fishnet Top, Japanese Flowers Skirt, and Black Fishnet Leggings from LilolOops; Shiny Things Old Laceup Boots in Black; Artilleri Red n' White Bracelet, ETD Heart Bracelet in Black.
Lilo has been working in graphics and web design for ten years, and it was only natural, she said, to want to begin her own clothing line once she started playing SL. She creates mainly what she can envision herself wearing rl, although her influences include comics and Japanese animation.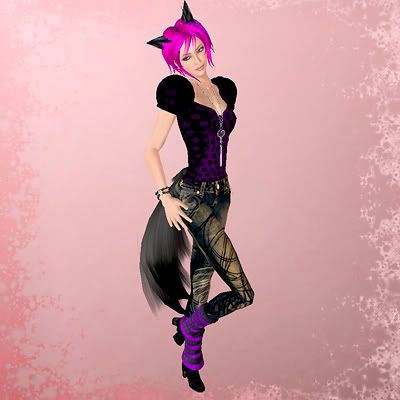 Purple Pea Top, Custom Circles Jeans, and Black and Purple Legwarmers from LilolOops; Cailyn's Long Drop Heart Necklace in Silver; ETD Heart Bracelet in Black; Oh! What a Neat Boutique Slouchy Boots in Black.
She herself is an assistant audio-visual director in real life; in SL, she is, along with other artists, djs and musicians, involved in a collective project known as KBPS. Lilo and her group hope to fund the KBPS project through sales of their designs. Affordably priced as they are, it won't hurt your wallet to help them along a little
and
walk away looking fabulous - it's a win-win situation.
Lala Moon Hair by Ruru Nagy: "Dancer"
As for my second find, last week I discovered Japanese hair designer Ruru Nagy's store, now called
Lala Moon
. Ruru may be new, but her styles show a great deal of promise, and her "Black" hair texture was one of the smoothest, most lovely dark chocolate hues I'd seen from among the newer hair designers. That, coupled with the incredible flexi ponytail on her style "Dancer" was enough to warrant a purchase on the spot:

This hair almost drifts on the breeze with each movement, and looks soft and silky-smooth to boot. The only drawback is that the alpha textures will render the ponytail invisible from some angles if say, it's viewed against your prim skirt. There is a decidedly lustrous quality to her textures that is more rendered-looking than realistic, especially on the lighter tones, but as designers such as Tohru Kanami have demonstrated, this can make for a more polished look than ultra-realism can achieve in a 3d game such as this.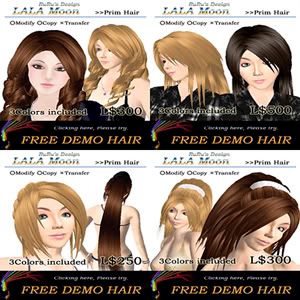 Ruru's styles were originally no-mod, but she was extremely accomodating and open to suggestions and promised to make all the styles in her store mod for us hair addicts. Mind you, I don't pride myself on being an enabler - but it's hair, and it's gorgeous, who cares?
Shopping Information:
**kbps/LilolOops - punk wear shop & cinema*,
Reignier (87, 143, 35)
Oh! What a Neat Boutique by Rosemary Galbraith,
Seonggye, (84, 91, 602)
ETD by Elikapeka Tiramisu,
ETD Isle (212, 216, 26)
Shiny Things by Fallingwater Cellardoor,
Shiny Things, Shiny Falls (165, 177, 37)
Artilleri by Antonia Marat,
Axel, (205, 192, 704)
Cailyn's Classic Jewelry by Cailyn Miller,
Gisborne (114, 221, 28)
Lala Moon by Ruru Nagy, 
EDO JAPAN (177, 179, 27)
**(Edit: 6/4 I've obtained the new location of Ruru Nagy's new store and posted it here; she's renamed it "Lala Moon" and all items are now mod. Happy shopping to you hair fanatics!)