Just a few things that have caught my eye lately, some brand new, and others not so new. OK, so I'm a slack blogger, blame it on the fact that I'm a much too laid-back Aussie! The latest SL update is certainly making things fun here - textures that won't rez properly, attachments rezzing in my nether regions and refusing to detach until I relog. Ah well, just another day in SL, bring on the clothes.
First up is a new release from
First Impressions
, the Pleated Trench Coat. Believe me when I say that you MUST have this - it's
free
! Yay for Pukk!
I couldn't pass up this new dress from
Amaretto
, mainly because the design is so simple, it's such a classic look. Jersey Girl features elegant lines, and I love the fitted system skirt and the cute flexi waist tie. All of Lux Yao's designs are completely hand drawn too.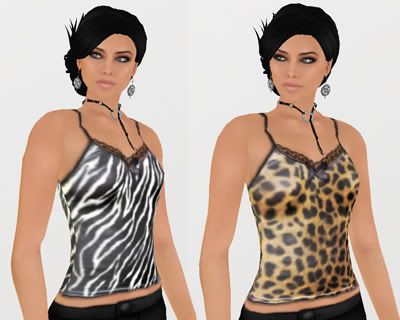 SecondWave Apparel
has released a range of lace trimmed camis, these come in a great selection of patterns and colours including the leopard and zebra prints shown above. They are available on 3 layers, and at 35L each are well worth a look.
Not quite so new, but definitely a must have, is the bem querer dress from
Bossa Nova
. Released at the Second Convention Fashion Show, this dress is available in several colours and features a delicate flower pattern, tulle underskirt and matching modifiable corsage. Moire's releases just keep getting better and better, and I love the retro yet glamourous feel of this dress.
Here's some Relay for Life items from
CKS Designs
which I can't believe I haven't blogged before since not only are they totally cute, the proceeds from sales go to charity. Kit has released these tops in 2 sets, the Tropical Tube Baby Dolls (example shown in the middle) and Tropical Tube Halter Baby Dolls. Each set comes with six tops in a variety of patterns, with colours ranging from bright to muted, and there's a bangle to match each top. Pretty much a summer essential!
Finally, some releases from new shoe designer Zayante Hegel of
ZayZay
. Shown from left to right are Rose's Gift, Corkies in White and Everyday Sandals in Black. I was impressed with the design of the Rose's Gift shoes, these have a sweet little bow and ribbons on the toe, and a pearl clasp and entwined ribbon at the heel . Eye catching, but not over the top. Zayante seems like a shoe designer with promise.