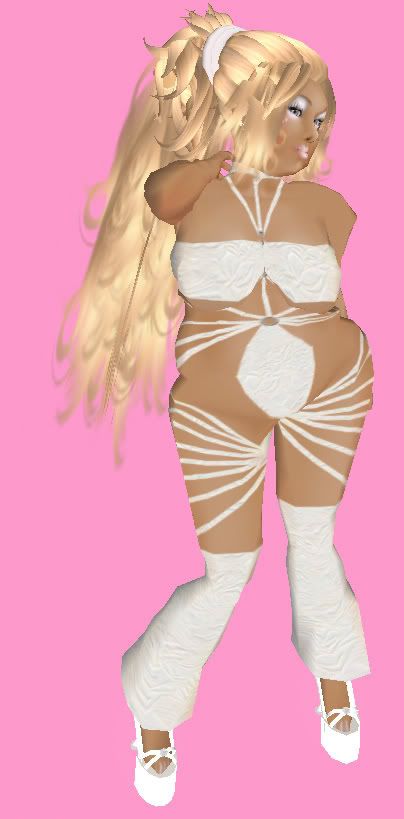 Well, it's no secret to those who know me well that Missbehavin Neva is my
all time favourite
designer in SL. Missbehavin owns the very popular and successful store Image Reflections which has a focus on high quality, sexy clubwear. And darlings, the outfit I am modelling here for you today takes sexy to a whole new level!
This is "Strapped" and it would have to be my
all time favourite
clubbing outfit.... ever! Let me tell you, Swirly gets a LOT of attention when she ventures out in this hot little number ;) You may recall seeing Swirly shaking her booty in this saucy get-up at such hot spots as Bad Girls and Hard Alley ......... now that's not a vision you can easily forget!
What I LOVE about this outfit is the fact that it's tintable. Yes......... tintable! Which means that at only 250L it represents great value for money, because instead of getting ONE outfit, you get..... well, how many colours are there? You get the idea. Swirly does love the way that white flatters her figure, but with SO many other colour options like khaki, puce, mustard, viridian and eggplant, you will never have to worry about matching your clothes to your accessories again!
As for the design itself, it's all about the straps baby! Swirly loves the way the straps wrap sensuously around her hips and thighs and booty, drawing attention to her best features. Just look at Swirly's booty in the pic and you will see just what I mean - PHWOAR! The design is tastefully done, ensuring that erogenous zones such as the breasts and knees are well covered. Pure class darlings!
STEAL SWIRLY'S LOOK:
"Strapped" from Image Reflections
"Fran" Hair in Golden from Calico Creations
"Ganguro" Skin in Tone 1 from PanJen
"Girl's Best Friend" Shoes from It's All Good