Dumpster Diving with Swirly will be a regular Fashion Victim feature that will highlight the FABULOUS free, or almost free, items that can be found in SL. Swirly will show you how to look like a diva for next to nothing!
A dear friend dragged me down to Palomma Casanova's charity shop The Free Dove, where kind hearted designers contribute their cast-offs to help support the ever increasing number of fashion challenged newbies joining the ranks of SL. At first glance it was a little like walking into the Welcome Area, with a swelling tide of newbies with their funny little walks pushing each other around, until I saw the GOODIES laid out on tables in front of me. Everything from shoes, clothes, and skins to animation overrides. But the best thing was the prices, everything is free! It's a "no payment info on file" newbies dream!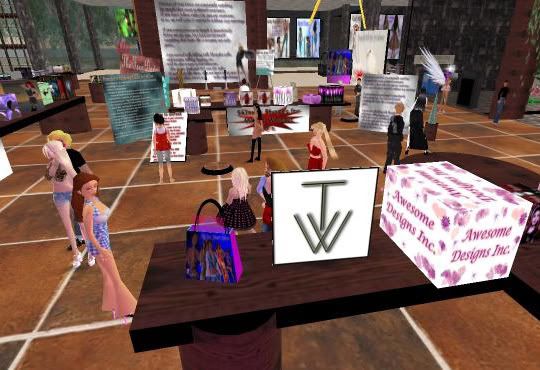 But amongst these tables overflowing with freebies, would it be possible for Swirly to find

anything

that would meet her exacting standards? Things that just ooze glamour and class? Things that Swirly could actually WEAR? Well the answer to that question my friends is YES, as this article will demonstrate. Everything Swirly is wearing in these photos cost zero lindens, yes ZERO lindens, and everything was found at The Free Dove.

The first outfit Swirly is modelling for you is a sophisticated LBD from Canimal. Yes, CANIMAL! Swirly loves how the plunging neckline shows off her ample bosoms, and the way the beautifully textured fabric clings to her curves. The zebra textured shoes from Innovations just OOZE class, no-one would ever guess that Swirly was wearing freebies. Swirly has decided to surprise her fans by going brunette for this photo, wearing the super flexi Proton Ponytail from Nuclear Boutique. And no outfit would be complete without some classy gems, in this case a delightfully detailed set from Alienbear Design. Swirly is wearing the Charlotte Hausdorff Fashion Sweet Freebie Skin - will you just look at the divine shading on the cleavage? And the eye makeup is JUST how Swirly likes it, pure glam. Unfortunately, this skin has no "bits" at all, and the buttocks carry some promotional text for the designer. Still, a lovely skin and who is going to notice those shortcomings when you have all your clothes on as all good girls should?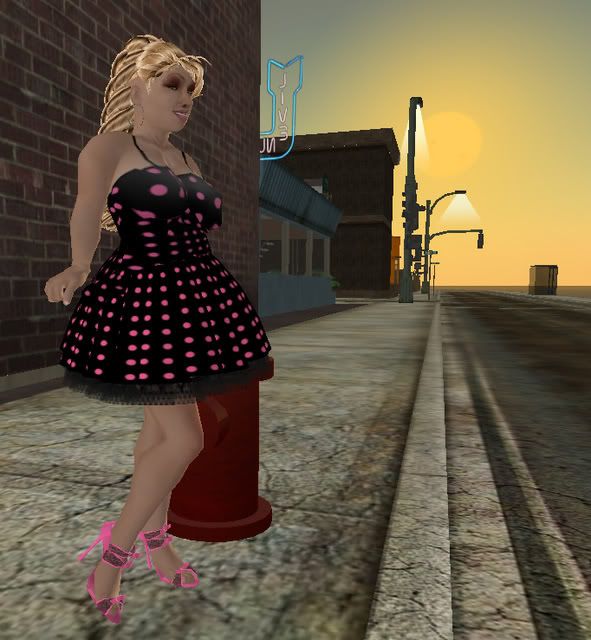 Swirly found a delightfully girlish pink polka dotted sundress from PanJen and paired it with the Sexy Colour Change Shoes with Black Lace from AFantasy Emporium. Doesn't Swirly just look so cute in this little number? Of course Swirly had to finish her look with the very pretty and feminine Vivaldi Winter hair from Innovations. The stunning silver hoop earrings are by Opium Everyday.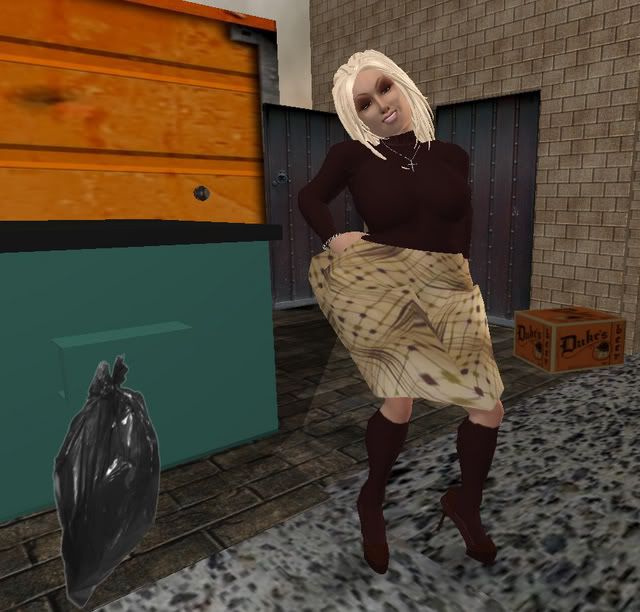 Swirly was SO excited to find her next outfit, the T&S Cashmere Turtleneck and Silk Skirt, which comes complete with shoes! Does it get any classier than this??? Swirly teamed this look with the lovely Whispies Hair in blond from Wilted Rose, which is so sleek and glamorous. The look is finished off with the simple yet elegant Heavenly Cross Jewelry set from Encore.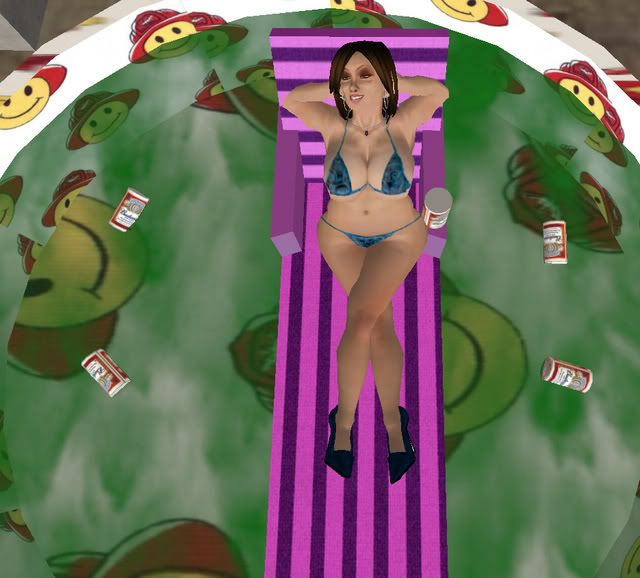 And darlings I just couldn't leave you without modelling some super sexy swimwear! This hot little number is the Sweet Leaf Creations Micro Bikini and doesn't Swirly just make you DROOL wearing this? No bikini is complete without some sexy high heels and can you believe that Swirly found these Essential Stilletos by Sylfie Minogue for FREE?? Swirly is wearing the I'm So Pretty Hair by Calla along with the Silver Diva Earrings and Stone Choker from Opium Everyday.

Total cost for all these looks was ZERO lindens and you can find everything that Swirly is modelling at The Free Dove
*smooches*