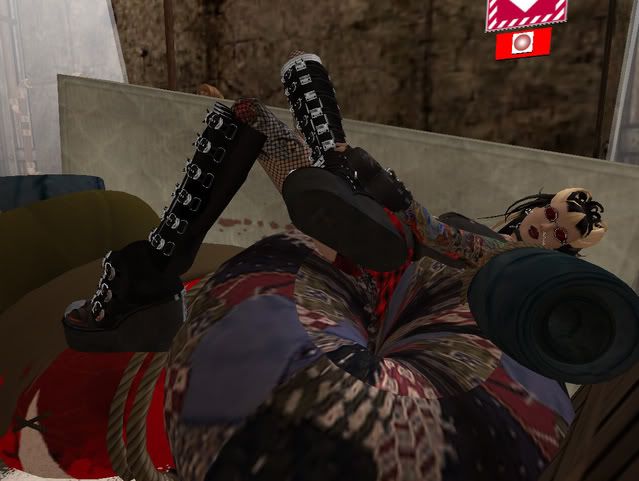 Poe Tatum is a the creative force behind Skanks R Us, a relatively new label that brings us a range of well made punk / goth clothing and accessories designed to unleash the rebel within us all. I don't know Poe, but I can tell you she has some DAMN fine taste in music - black metal, alright! OK, on to the clothes. I visited Skanks R Us to pick up the Jolly Roger gloves that Cinn modelled in the previous post, and came away with my linden balance somewhat depleted.


First up are the Goth Mutation Boots. These are some seriously chunky knee high boots complete with high platform soles, buckled straps and steel caps. 450L a pair but when boots look this good, who cares?


Skanks R Us has some seriously cool accessories. Shown here is the Slave Collar which is a nice chunky piece complete with a buckle at the back and some heavy duty O rings at front. At 130L it isn't scripted but it's mod / copy so you can play with it to your heart's content. The Jolly Roger gloves are great value at 100L with some nicely detailed buckles.


My favourite item would have to be the Biker Goggles. These are some of the best goggles I have seen in SL, they are menu driven with more features than I could possibly list here. The goggles can be worn over the eyes or on top of your head, and feature some very cool animations for changing positions, which can also be controlled with gestures. The lenses can be changed to any colour, and you can select the level of opacity and shininess. Poe says that these goggles are customisable to ANY avatar, including tinies, but this isn't a feature I tested. The Biker Goggles cost 325L a pair.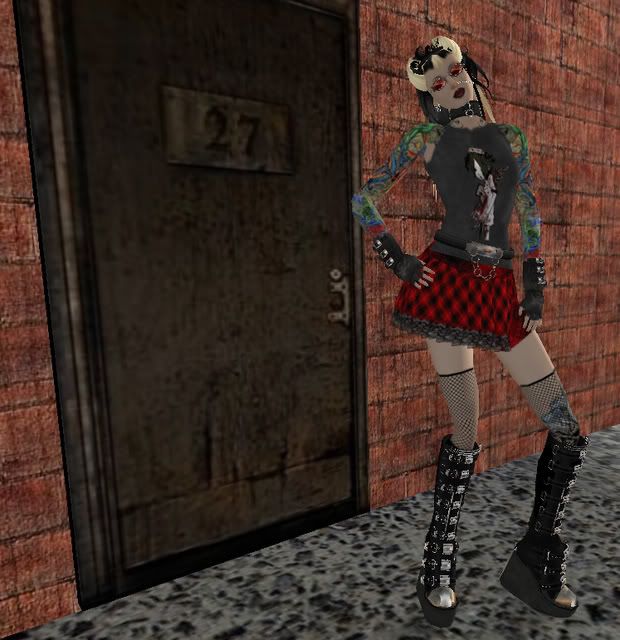 Skanks R Us also has a great range of cute punk clothing. Shown here is the Check Lace Skirt (100L), Bloody Nurse Tee (60L)and Red Star Belt (85L).

STEAL STEPHANIE'S LOOK:
Skirt, tee, collar, belt, gloves, goggles and boots from Skanks R Us
Fishnets from WRONG
Body Graffiti Tattoos in Poison from Canimal
Sasi Earrings from Hearts Desire
Skin - Medium Tone in Red Charcoal from Curious Kitties
Victory Curls B & B Hair from Old Gravy